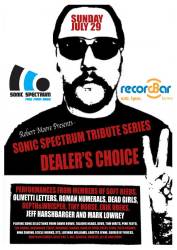 w/ Mark Lowrey, Erik Voeks and Jeff Harshbarger
Sonic Spectrum Tribute Series: Dealer's Choice
Host Robert Moore picks the bands and the playlists
feat. members of Soft Reeds, Tiny Horse, Roman Numerals, Olivetti Letters, Dead Girls, Depth & Whisper
July 29, 2012 8:00 pm
- 11:45 pm
Add to Cal
//=$other_events?>
Time: 8:00pm Day: Sunday Doors: 7:00pm Ages: 18+ Ages
This Event Has Ended
Showtimes
8:00 pm
Erik Voeks, Cameron Hawk, Dave Tanner
10:00 pm
Steve Tulipana, Duane Trower, Jeff Harshbarger, Mark Lowrey, Ryan Shank
Tiny Horse

Chris Meck and Abigail Henderson are Tiny Horse, an electric/acoustic duo from the gnarled heart of Midtown Kansas City. They sound like the slow, dusty burn of old tube amps and the heart-worn sound of letting go. The song bones are laid down by Henderson, her songwriting informed by loss, survival, and the insistent need to keep moving. Meck builds the beast, filling the space with sound, wrangling the strange noise and fuzzed out crackle of the electric guitar. They sing like two people who have seen a few miles together. And they'll see a few more.
tinyhorsemusic.com/
Soft Reeds

oft Reeds is the bastard son of dreams gone awry and inspiration rediscovered. The byproduct of his affair with disillusionment, front man Ben Grimes brings legitimacy to illegitimacy. After the break up of his previous band, The Golden Republic, Ben left Kansas City for Nashville. His exodus was one of disappointment with the music industry, youthful rebellion, and artistic endeavors. After the ordeal of a major label fiasco, he was trying to get away from being a musician. But the musical environment of Nashville compelled him to write again. He would soon leave Nashville and return to Kansas City to start a new project: Soft Reeds.
Setting up in Kansas City's Crossroads District, Ben built a small studio and created an EP ( Three Songs by Soft Reeds). At this point Soft Reeds transformed into a band. Grimes recruited Josh Wiedenfeld (drummer), Phillipe Leitner (bass), and Jordan Johnson (Rhodes/guitar). Shortly thereafter Jordan Johnson left the quartet, and was replaced by Dan Talmadge. In the fall of 2009 they began recording their debut album "Soft Reeds are Bastards." Comprised mainly of songs and ideas taken from Grimes' Nashville experience, Wiedenfeld also lent his hand with co-producing, engineering, and writing arrangements.
The music is brimming with pop melodies, rousing guitar, and clever instrumentation. The rhythmic beats alternate and pulsate with themes of alienation and connectedness. Lyrically, it is a cheeky account of perspective gained.