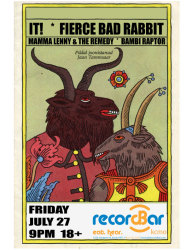 Fierce Bad Rabbit * Mamma Lenny & The Remedy * Bambi Raptor
July 27, 2012 9:30 pm
- 1:00 am
Add to Cal
//=$other_events?>
Time: 9:30pm Day: Friday Doors: 9:00pm Ages: 18+ Ages Price: $8
This Event Has Ended
Showtimes
10:20 pm
Mama Lenny & the Remedy
11:10 pm
Fierce Bad Rabbit
Bambi Raptor

BambiRaptor is a five-piece Chicago-based band forged in 2009 by a group of close friends. Their sound is highlighted by catchy hooks, energetic guitar riffs and vocal melodies. The group consists of Roger Remillard (lead vocals), Doug Moore (guitar, effects), Gary Farr (guitar), Kenneth Kruse (bass, backing vocals), and Nick Emrich (drums, percussion). BambiRaptor's material can be compared to acts such as The Killers, Jet, All American Rejects and Taking Back Sunday with the energy and fun of Blink182. The band's particular sound has been coined "Dance Rock", and dabbles in other genre styles such as punk, indie, hip-hop and reggae. Their shows are high energy, colorful, and fun. BambiRaptor currently occupies a monthly practice space at Superior Street Studios and plans on recording their 2nd EP early Fall, 2010.
Mama Lenny & the Remedy

A group of musicians who wanted to play some nice music together and share it with the likes of you:)
Fierce Bad Rabbit

Fierce Bad Rabbit presents 'All I Have Is You' its second release this year. The band formed in early February of 2009 formed by frontman Chris Anderson (The Jimi Austin) Dayton Hicks (Arliss Nancy) Alana Rolfe (Stella Luce) and Adam Pitner. Coined as a Northern Colorado Super Group, the band all hails from experience and brings together well crafted songs with a solid pop sensibility. The band plans on releasing a full length album later in 2010 and will be hitting the road this winter. 'All I Have Is You' is available for a free download at www.fbrmusic.com
Fierce Bad Rabbit
Indie Rock quartet based out of Fort Collins Colorado featuring Chris Anderson (vocals, guitar, keys) Alana Rolfe (vocals, viola) Dayton Hicks (bass) Adam Pitner (drums)
Fierce Bad Rabbit on Last.fm
.
User-contributed text is available under the Creative Commons By-SA License and may also be available under the GNU FDL.
Bambi Raptor